About the department
Welcome to the pages of the Department of Physics, Chemistry and Vocational Education, Faculty of Education, Masaryk University.
You will find the Department of Physics on the first floor of the Faculty of Education – Poříčí 7, Brno.
Web: Department of Physics, Chemistry and Vocational Education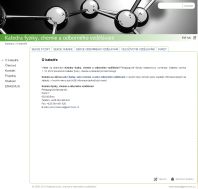 Study
The Department of Physics, Chemistry and Vocational Education educates:
future teachers of physics, particularly for primary and lower secondary schools,
professionals for all areas connected with education in natural sciences.
The general theoretical core of the degree is a comprehensive four-semester course in general physics, the basics of applied mathematics, and a common pedagogical core. Within the framework of study appropriate attention is paid to the foundations of work with information technology, both as an ordinary user and for automation of physics experiments and for modelling situations in physics.
In didactic disciplines students obtain experience in practical teaching, means, methods and procedures suitable for the profession of a physics teacher. For the whole duration of the course the students can use the experiment equipment of the department, the library and the reading room.
The Department of Physics participates in teaching Natural Sciences for students of Teaching at Primary Schools and teaching enviromental subjects and ecology. We prepare elective subjects for all students:
Hygiene and the environment,
Methodology of planning activities in natural sciences,
Experimenting,
Modern methods of measurement.
The equipment of the department includes computers, video recorders, recording, playing and copying devices and a didactic laboratory. The department is a training workplace in the field 75-02-9 "Theory of teaching physics" and it closely cooperates with physics departments of the Faculty of Sciences, MU.
The Teacher of General Subjects with Physics programmes of study provide graduates with a comprehensive amount of knowledge from the key physical disciplines and from didactics of physics. In addition, they provide the foundations of:
astrophysics,
theory of solid substances,
electronics,
modern methods of measurement.
Students acquire an up-to-date environmental overview and user skills in the area of information technology.
Students can apply for courses abroad for teachers of physics in the EU countries. Every year, a group of students travels to partner departments in EU countries, usually to Greece, Portugal and Austria.
Selected students participate in a national competition of Masters' theses, where they regularly win some of the top positions.
From the third year on our students are welcome to work in the department´s laboratories where they can use experiment equipment. At the present time, the department also takes part in international research on degradation processes in photovoltaics. The research focuses on mechanical properties of solid substances, plasmatically laid layers.
Further areas of research include:
integration of natural sciences,
teachers and health.
The study of physics represents a gate to scientific and technological progress: it can be interesting as an intellectual challenge for any person who is interested in the nature that surrounds us
.